Electrical
Standards

integrated into Caneco BT

Since its creation, ALPI has based its development on its strong expertise in electrical standards. Thus ALPI holds eight certificates of conformity to these standards and its experts sit on the Commissions appointed to draw up French standards.
ALPI International Pack
Intended for design offices and installation companies conducting studies outside France, the International Pack available in Caneco BT enables you to:
Perform calculations in accordance with 15 national electrical installation standards + IEC International Standard 60364 and European Standard HD 384
Access the manufacturers' catalogues for each country available in ALPI database
Print your technical folders in 9 languages: French, English, German, Spanish, Italian, Flemish, Portuguese, Dutch and Catalan.
You can even configure your own printing languages.
Caneco BT is available in 7 interface languages: French, English, German, Spanish, Italian, Flemish and Portuguese. Further information on Caneco BT
Countries supported in Caneco BT: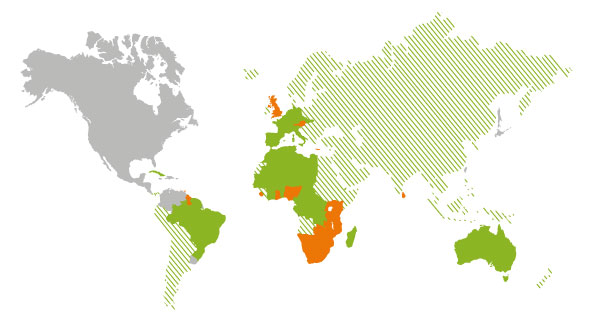 Applicable standard integrated in Caneco BT


Applicable standard integrated in a previous version (current standard coming soon)


IEC Standard 60364 applicable
Information given as a guideline only: ALPI has given every attention to updates, but declines any responsibility for the use of this information, which should be regularly verified with the standards authorities in the country concerned.
International Standards integrated into Caneco BT :
Low voltage: IEC Standard 60364 (2009) and European Standard HD 384 (1998)
Marine: IEC 60092 (2005)
Direct current: IEC 364 DC (2001)
 
Countries publishing their own installation standards:
Country

Caneco BT Standard
usable in the country (1)

Caneco BT document printing
language usable in the country (1)

Australia

AS 3008 : 2009 (revision 2011)
English

Austria

ÔNORM

German

Belgium

RGIE - AREI (2015) /
RGIE - AREI DC (2015)(2)

French / Flemish

Brazil

NBR 5410 : 2004 (2008 revision)

Portuguese

Czech Republic

CSN (2000)

English

France

NFC 15-100 (2019)

French

Germany

VDE (2018)

German

Italy

CEI 64-8 (2012)(2)

Italian

Netherlands

NEN 1010 (2015)

Dutch

Portugal

RTIEBT (2017)(2)

Portuguese

Spain

REBT 2011 (2014 revision)

Spanish

Switzerland

NIBT-NIN (2015)

French / German / Italian

United Kingdom

BS 7671 (2018)

English
Country applying a national standard from another country:
Search:
Country

Caneco BT Standard
usable in the country (1)

Caneco BT document printing
language usable in the country (1)

Algeria

NFC 15-100 (2015)

French / English

Andorra

REBT 2011 (2014 revision)

Catalan / French / Spanish

Argentina

IEC 364 (2013)

Spanish

Benin

NFC 15-100 (2019)

French

Bolivia

IEC 364 (2013)

Spanish

Botswana

BS 7671 (2018)

English

Burkina Faso

NFC 15-100 (2019)

French

Cameroon

NFC 15-100 (2015) / BS 7671 (2018)

French / English

Canada

NEC standard coming soon

English / French

Cape Verde

RTIEBT (2017)

Portuguese

Central African Republic

NFC 15-100 (2019)

French

Chad

NFC 15-100 (2019)

French

Chile

IEC 364 (2013)

Spanish

Colombia

NEC standard coming soon

Spanish

Côte d'Ivoire

NFC 15-100 (2019)

French

Cyprus

BS 7671 (2018)

English

Democratic Republic of the Congo

NFC 15-100 (2019)

French

Djibouti

NFC 15-100 (2019)

French

Ecuador

IEC 364 (2013)

Spanish

French Guyana

NFC 15-100 (2019)

French

French Polynesia

NFC 15-100 (2019)

French

Gabon

NFC 15-100 (2019)

French

Gambia

BS 7671 (2018)

English

Ghana

BS 7671 (2018)

English

Gibraltar

BS 7671 (2018)

English / Spanish

Guyana

BS 7671 (2018)

English

Kenya

BS 7671 (2018)

English

Lesotho

BS 7671 (2018)

English

Libya

NFC 15-100 (2019)

French / English

Luxembourg

NFC 15-100 (2019) / VDE (2018)

French / German

Madagascar

NFC 15-100 (2019)

French

Malawi

BS 7671 (2018)

English

Mali

NFC 15-100 (2019)

French

Mauritania

NFC 15-100 (2019)

French / English

Mauritius

BS 7671 (2018)

English

Mexico

NEC standard coming soon

Spanish

Monaco

NFC 15-100 (2019)

French

Morocco

NFC 15-100 (2019)

French / English

Mozambique

BS 7671 (2018)

Portuguese

Namibia

BS 7671 (2018)

English

Niger

NFC 15-100 (2019)

French

Nigeria

BS 7671 (2018)

English

Paraguay

IEC 364 (2013)

Spanish

Peru

IEC 364 (2013)

Spanish

Republic of the Congo

NFC 15-100 (2019)

French

Rwanda

BS 7671 (2018)

French / English

Senegal

NFC 15-100 (2019)

French

Seychelles

BS 7671 (2018)

French / English

Sierra Leone

BS 7671 (2018)

English

South Africa

BS 7671 (2018)

English

Sri Lanka

BS 7671 (2018)

English

Suriname

NEN 1010 (2015)

Dutch

Swaziland

BS 7671 (2018)

English

Tanzania

BS 7671 (2018)

English

Togo

NFC 15-100 (2019)

French

Trinidad and Tobago

BS 7671 (2018)

English

Tunisia

NFC 15-100 (2019)

French / English

Uganda

BS 7671 (2018)

English

United States

NEC standard coming soon

English

Uruguay

NEC standard coming soon

Spanish

Vatican City

CEI 64-8 (2012)

Italian

Zambia

BS 7671 (2018)

English

Zimbabwe

BS 7671 (2018)

English
(1) : Standards and languages available according to the various Caneco BT versions, with the optional "International Pack", "Marine Pack" and "DC Pack"
(2): Standards available from version 5.10.1 of Caneco BT