Caneco BT
Automatic Dimensioning and Diagramming of Low Voltage Electrical Installations
Caneco BT determines as economically as possible the cross-sections of the cables and all the protective devices. It produces all the diagrams and documents required for the design, manufacture, verification and maintenance of electrical installations.
As the European leader in its sector, Caneco BT has been awarded three certifications - (NF C 15-100, BS, RGIE and NIN) - attesting the conformity of its calculations, and works with international standards, including IEC364, HD384 and  VDE.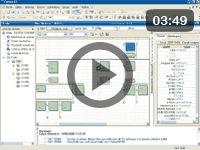 Information request
Functionalities Caneco BT 5.6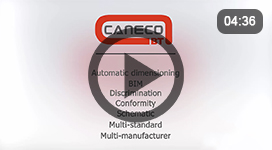 Automatic Dimensioning + Diagrams
Caneco BT creates the calculations and diagrams required for your installation in a single software package and with no entry duplication.
Safety and Economy Guaranteed
Caneco BT determines the most economical solution and guarantees compliance with the electrical standards in force.
Freedom of Input Mode
You choose the input mode that best meets your requirements (spreadsheet, general single-line diagram, panel single-line diagram, etc.). The software updates diagrams and information automatically.
Multi-manufacturer
Caneco BT finds the most suitable equipment in its database, which contains the categories of over 100 manufacturers of electrical equipment. You can change manufacturers at any time for all or part of the installation.
Multilingual
Caneco BT is available in 7 interface languages.
With Caneco's International Pack, you can print out your project documents automatically translated into 9 languages.
Multi-standard
Caneco BT can do dimensioning in accordance with 15 international standards + the marine standard. (Consult the list of all electrical standards available with Caneco BT)
Detailed characteristics
Product - PDF