Caneco HT
Software for Calculations and Diagrams of High Voltage Electrical Installations
Caneco HT is a high voltage private electrical network design and verification software package compliant with standards NF C 13-200 and IEC 60909 and with its Marine pack standard IEC 61363.
It calculates the three-phase and homopolar and determines the cross-sections of the cables.
It enables adjustment of the protective devices for several working configurations.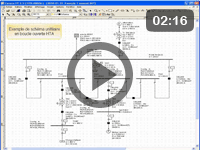 Information request
Dimensioning the electrical equipment
Caneco HT will calculate or optimise:
the cross-section of the electrical cables;
the setting thresholds of the protective devices;
the voltage drops and the short-circuit currents required for dimensioning the breaking  and protective devices.
Up to 245 kV
Caneco HT is designed for the study of HVa – HVb installations and independent sources of generation receiving alternating current f at a nominal voltage greater than 1000 V and up to 245 kV.
Modelling installation
The Caneco graphics editor is used to model the networks and edit single-line diagrams.
Studying the different configurations
You define and enter all the working configurations of the installation. The calculations make a summary of all the most disadvantageous cases so as to guarantee the conformity of the network in all of the working configurations.
Checking or extending an existing installation
You can very quickly optimise or check the conformity of an existing installation. 
You can also rework a project by locking the existing links to enable a previous standard to cohabit with a new standard on the extension.
Compliance with statutory obligations
Caneco HT edits a folder grouping all the electrical installation documents:
general information on the project;
cable layouts (in spreadsheet format);
single-line diagrams of the electrical installations, together with, if necessary, a block diagram showing the hinges of the various panels;
design calculations.
Detailed characteristics
Product - PDF