Caneco EP +
Caneco

EP-Implantation

Audit and Design Solutions for Public Lighting Networks

Caneco EP is software for the design and control of low and high voltage public lighting systems, compliant with standard NF C 17-200 (version of July 2008) and UTE Guide C17-205.

Caneco EP does more than simply calculating voltage drops, it performs the complete dimensioning of the installation, determining as economically as possible the outgoing protective devices and the cable cross-sections.

Its Caneco EP-Implantation module automatically integrates into Caneco EP the data on the implementations entered directly on to cadastral base maps.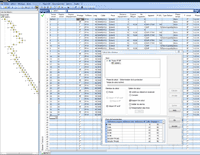 Information request
From the layout to design calculations in 3 steps
With Caneco EP-Implantation, you implement your public lighting system directly on to cadastral base maps in AutoCAD (dwg) format.
With no entry duplication, this information is retrieved automatically in Caneco EP for the design and/or diagnosis of your low and high voltage public lighting systems.
Economical
Caneco EP calculates the low and high voltage public lighting systems economically, so as to obtain the lowest possible installation cost (supply and labour).
Time-saving
The layouts performed by Caneco EP-Implantation are directly imported into Caneco EP, with no entry duplication.
Quality
With Caneco EP, you provide the client with a recognised work format and high level of service: conformity guaranteed, lower costs, delivery of a complete study folder.
Audit of existing installations
The computer entry of your PL network data facilitates its technical monitoring, its compliance and any extensions.
Compliance with the exterior lighting standards
The expert calculation engine of Caneco EP incorporates all the rules set forth in standard EP NF C 17-200, together with the recommendations of UTE Practical Guide C17-205.
Detailed characteristics
Product - PDF