Marine /
Offshore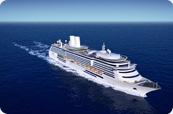 STX and DCNS shipyards use the Caneco software marine standard calculations.
STX (one of the world's largest shipyards, based in Saint Nazaire, France, formerly Aker Yards) and DCNS shipyards use Caneco BT and Caneco HT software for the design of their vessels.
These software applications handle calculations under marine standards IEC 61363 (short-circuit calculations) and IEC 60092 (installation rules).

A certificate of compliance of the Caneco HT calculations with the IEC 61363 standard (available in the marine pack) was issued by the Marine Division of Bureau Veritas in 2010.