Office
Elec
Study and Costing of Low Voltage Switch Cabinets
Office ELEC is a software solution for electrical installation estimates, ordering, invoicing and monitoring.
Office ELEC is multi-manufacturer and designs automatically the distribution cabinets, performs the costing and ensures effective management of the project.
The software enables the company to delete all discontinuities between the design department, the administrative services and the business managers.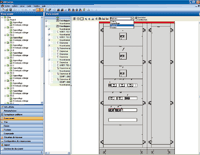 Information request
Multi-manufacturer Catalogue
In its complete version, Office ELEC enables you to select the electrical equipment from a standardised interface offering close to 500 000 products from the catalogues of over 100 manufacturers!
These catalogues are regularly updated for customers under maintenance contract.
Automated design of distribution cabinets
Following an electrical study, Office ELEC automatically determines the casings, enclosures, mounting plates and accessories required to mount the equipment, according to configurable rules.
The cabinet's components are then costed and the orders edited.
Automatic costing of the electrical installation
Office ELEC recognises automatically the equipment represented on a DXF diagram, and costs the equipment automatically (cables, protective devices, receivers, junction boxes, etc.).
It also adds automatically the cost of the casings, enclosures, mounting plates and accessories required to mount the electrical equipment.
Automatic import from ALPI software suite
Office ELEC performs automatically the implementation of the costing and cabinet layout of the cables and protective devices in your Caneco BT study. Connected with Caneco Implantation, it also costs the receivers, junction boxes and wiring layouts in the project.
Ease and speed of use
The ergonomics of Office ELEC have been particularly well thought and will save you time! Its connectability to Caneco BT, Caneco Implantation and AutoCAD Plan software eliminates entry duplication, saves you time and reduces the risk of error.
Edition of a complete folder
Once the distribution cabinets have been designed, Office ELEC enables you to edit the orders and a technical folder to be sent to the design department.
You can export the front views, without our without parts lists, and the single-line block diagram.
Detailed characteristics
Product - PDF