Caneco BIM
Checking and implementing electrical objects in a Building Information Model
Caneco BIM is a software tool allowing electrical data exchange between a BIM project and ALPI's suite of software.
Caneco BIM is used to check and input electrical information in a Building Information Model. Electrical data are then exported onto Caneco BT to define the cross section cables and the protective devices.
Finally, Caneco results are reimported to enhance BIM project.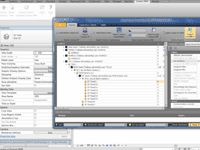 Information request
Fast visual checking of an installation in Autodesk® Revit®
With three viewing modes, the user can quickly check the integrity of an electrical project in Revit.
Connection between Autodesk® Revit® and Caneco BT
Without any loss of data, Caneco BIM lets you interface your Revit electrical project with Caneco BT electrical system design and schematics software.
Automatically generates a diagram equivalent to the installation described in Revit
Caneco BT automatically generates the schematic layout imported from a Revit project.
Constitutes a complete electrical design file from a BIM project
The layout information described in Autodesk® Revit® is used in Caneco BT to print out the complete design calculations and the guarantee of compliance with standards.
Retrieving the electrical data from a Revit project in AutoCAD
Caneco BIM can export a Autodesk® Revit® electrical project to AutoCAD® and add electrical intelligence to it, with no need to redefine the elements, the layout and the equipment.
Detailed characteristics
Product - PDF