News | 13/03/2012

On 28th February 2012, Michel Fanet, Chairman and General Manager of ALPI and Pascal Blanc-Tailleur, Chairman of ALPCAD SOFTWARE, signed a technology transfer contract covering the utilisation of ALPCAD Boss software in ALPI software packages.
This partnership will provide ALPI with expertise in electrical systems design based on DWG, which will enhance its future packages in the Caneco and Office Elec ranges.
Pascal Blanc-Tailleur has a well-established reputation in the field of electrical design. He will be actively involved in ALPI software development and marketing, to ensure that the Boss technology is fully integrated into ALPI software.
Boss is an electrical design programme that works directly on DWG files, and is thus independent of the graphics configuration adopted by the user. Boss provides a number of electrical design functions and specialised assistants, including component identification, cross-references, equipotentials, parts lists, generation of terminal strips and circuit diagrams.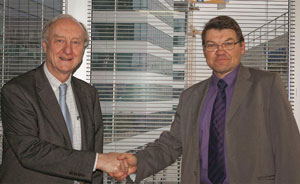 Tweeter