Figures and Key
Points
ALPI was formed on the 15th of March 1986
Legal status: SA (French Public Limited Company)
70 employees, registered capital €330,000
Over 10,000 Caneco software applications are used worldwide.
Turnover (euros)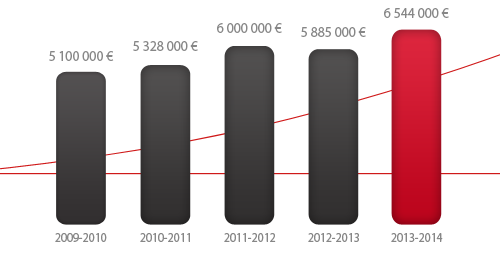 Caneco Implantation achieved the hoped-for success as an electrical diagramming software program for layout as per architectural plan.
Complementary to Caneco BT, it was the fruit of the amalgamation of the AutoCAD® standard and ALPI's expertise in automation of electrical installation study processes.
It offers AutoCAD® users intelligent electrical functions (wiring, routing and automatic quantity calculations for cables and cable trays) in their preferred software, and automatically generates the cabinet diagrams and calculations in Caneco BT.